Home / Girls / Skirts / #7037 Skirt with Patch Pockets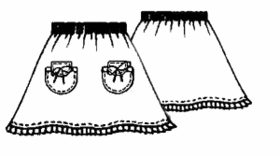 Difficulty: *
Recommended fabrics: corduroy, jean fabrics; for trim – wool or blends with small pattern.
Attention! Fabric consumption varies depending on the size of garment. First of all, print out paper patterns and lay them out at the width of fabric/ knit you plan to use, to see how much fabric you will need.
When sewing the garment, pay attention to notches- they must coincide.
You will need: Cotton corduroy; 50 cm (20") of plaid wool fabric 140 (55") wide; 5 cm (2") of fusible interfacing 40 cm (16") wide; 55 cm (22") of elastic tape 4 cm (1-1/2") wide; 50 cm (20") of white cord.
Cutting:
Corduroy:
Skirt Panel - 2 pieces
Plaid Fabric:
Pocket - 2 pieces
Pocket Flap - 4 pieces
Bottom Flounce - 4 pieces
Fusible interfacing:
Pocket Flap – 2 pieces
Instructions:
1. Reinforce two Pocket Flap pieces with fusible interfacing.
2. Turn under and press allowance at top edge of each Pocket. Turn under raw edge, press and topstitch.
3. Turn under and press all raw edges of Pocket. Apply Pocket onto Front Panel as per pattern, baste and topstitch Pockets onto Front Panel.
4. Place one reinforced and one non-reinforced Flap pieces face-to-face, stitch together around three outer sides. Turn out the Flap, press.
5. Pin each Flap, directed upwards, above the Pocket at center; topstitch Flap onto Front Panel. Press the Flap down and topstitch again at 0.5 cm (1/4").
6. Sew side seams, serge allowances and press them open.
7. Sew all 4 pieces of Bottom Flounce into one, then into a ring. Press Bottom Flounce lengthwise in half, wrong side inside.
8. Fold Bottom Flounce into pleats 2 cm (7/8", but 2 cm is more accurate!) wide at a distance 2 cm (7/8") from each other, press all pleats; baste raw edges.
9. Baste and stitch Flounce to the bottom of skirt, serge allowances, press them up (towards skirt), topstitch at 1.0 cm (3/8").
10. Turn under and press extended elastic tunnel at the top of skirt. Width of tunnel is 4 cm (1-1/2"). Turn under raw edge and topstitch onto skirt, leaving a small opening for elastic.
11. Pull elastic through the tunnel; adjust its length; sew elastic into a ring.
12. Pull out the elastic and topstitch waistband at the center and at the top edge (sewing through all layers, including elastic).
13. Cut cord in half. Sew each cord at its center to the Pocket as per pattern markings.
14. Make buttonhole into each Pocket Flap as per pattern, pull cord ends through the buttonhole and tie a bow.