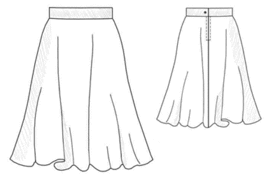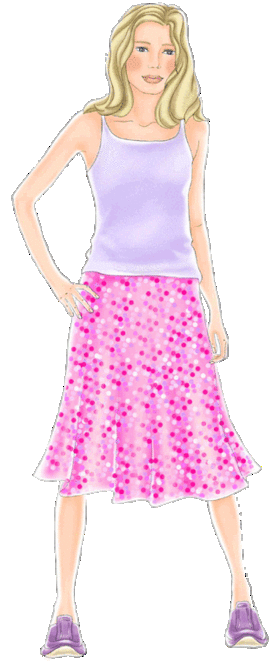 Difficulty: *
Recommended fabrics: lightweight well-draping fabrics.
You will need: silk fabric; fusible interfacing; 1 button, zipper.
Attention! Fabric consumption varies depending on the size of garment. First of all, print out paper patterns and lay them out at the width of fabric/ knit you plan to use, to see how much fabric you will need.
When sewing the garment, pay attention to notches- they must coincide.
Cutting:
Shell:
1. Front Panel - 1 piece
1. Back Panel - 2 pieces
2. Waistband - 1 piece
Fusible Interfacing: Waistband
Instructions:
Note: let the finished skirt hang for one day before hemming. Mark new, even hemline, trim extra fabric if any, and then hem the skirt.
1. Sew center back seam down from the notch for zipper. Sew side seams. Serge seam allowances separately. Press seams open. At the opening for closure, press seam allowances open, too.
2. Place zipper underneath the opening, baste zipper to Back Panel at both sides so that edges (teeth) of closed zipper would match folded edges of fabric at center back. Stitch zipper to Back Panel, starting from the left side, at a distance 0.5 cm (1/4"). Use special presser foot for sewing zippers.
3. Place Waistband onto waist of skirt, aligning raw edges at waist, so that at the right Back there's an extension of Waistband. Stitch Waistband to waist of skirt. Press seam allowances towards Waistband. Fold back half-width of Waistband, so that wrong side is outside, and stitch down short ends. Turn out the Waistband, press ends. Turn under and press raw edge of inner side of Waistband, baste all layers together. Stitch in the ditch of Waistband seam to fasten inner half of Waistband.
4. Work a buttonhole into left end of Waistband. Sew a button onto right side of Waistband.
5. After letting the skirt hang for a day and trimming even hem, serge raw edge at bottom. Turn under hem allowance and topstitch.