Home / Girls / Raincoats / #7028 Raincoat with Fly Yoke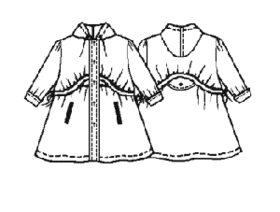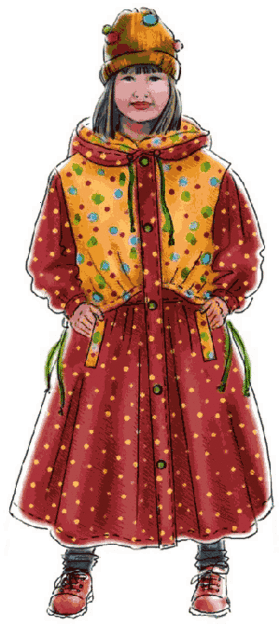 Difficulty: ***
Recommended fabrics: blended fabrics typical for raincoats, water-resistant, wind-resistant.
Attention! Fabric consumption varies depending on the size of garment. First of all, print out paper patterns and lay them out at the width of fabric/ knit you plan to use, to see how much fabric you will need.
When sewing the garment, pay attention to notches- they must coincide.
You will need: Two types of water-resistant raincoat fabric (shell 1 and shell 2); lining padded with warmer interlining; 41 cm (16") of elastic tape 3 cm (1-1/8") wide; 3.4 m (3-3/4 yds) of drawcords dyed-to-match; 5 buttons 1.6 cm (5/8") in diameter; 1 button 1.4 cm (9/16") in diameter; 6 metal eyelets 0.8 cm (5/16") in diameter.
Cutting:
Shell 1:
Top Front - 2 pieces
Top Back - 1 piece
Sleeve - 2 pieces
Hood - 2 pieces
Front Closure Placket - 2 pieces
Cuff - 2 pieces
Bottom Front - 2 pieces
Bottom Back - 1 piece
Pocket Bag - 4 pieces
Shell 2:
Tab for Back Fly Yoke - 2 pieces
Front Fly Yoke - 2 pieces
Back Fly Yoke -1 piece
Front Fly Yoke Facing - 2 pieces
Pocket Facing - 4 pieces
Back Fly Yoke Facing - 1 piece
Hood - 2 pieces
Lining:
Cut Top Front, Top Back, Bottom Front, Bottom Back, Hood and Sleeves without any changes in the patterns.
Instructions:
1. Sew side seams of Top Fronts and Top Back. Sew side seams of Front Fly Yokes and Back Fly Yoke. Sew side seams of Front Fly Yoke Facings and Back Fly Yoke Facing. Press seam allowances open.
2. Install eyelets at Fly Yokes next to side seams according to pattern markings.
3. Place Facings onto Yokes face-to-face, aligning at bottom edges. Stitch together at bottom of yokes. Turn the facing to the wrong side, forming a tunnel for drawcord, press. Turn under raw edge of facing, press. Topstitch facing to make a tunnel for drawcord.
4. Place pieces of Tab face-to-face and stitch together at bottom edge. Turn out, press, topstitch. Serge raw edges of Tab.
Place the Tab, directed downward, underneath Fly Back, as per pattern. Stitch the Tab to Fly Back into the seam of attaching the Facing/drawcord tunnel.
5. Assemble slashed pockets at each Bottom Front. Mark Pocket placement at each Bottom Front (5 cm (2") from waistline raw edge, and 15 cm (6") from front edge). Press each Pocket Facing lengthwise is half, wrong side inside. At each pocket opening, place 2 Pocket Facings with raw edges meeting at pocket opening line. Place and pin Pocket Bag of lining onto lower Pocket Facing; place Pocket Bag of shell 1 onto upper Pocket Facing. Make two stitchings along pocket entrance, 1 cm (3/8") apart. Cut the Front between two seams, in corners cut diagonally, forming small triangles at the ends of pocket. Turn Pocket Bags inside through the pocket opening and form a frame out of Pocket Facings, meeting at the center of the pocket opening. Bartack with zigzag raw edges of Facings to Pocket Bags. Align two Pocket bags, trim to make raw edges even, stitch around. At the wrong side of garment, topstitch triangles onto ends of Pocket Facings.
6. Sew side seams of Bottom Fronts and Back.
7. Staystitch at raw edge of waist of Bottom Front and Bottom Back with long machine-stitches. Pull threads to make gathers to match in length with Top Front and Back. Pin and stitch Top to Bottom at waist. Press allowances up. Topstitch the waist seam.
8. Turn under and press bottom hem allowance, turn under raw edge and topstitch.
9. Place Fly Yokes wrong side onto face side of garment, align at raw edges, baste at armholes and front edges.
10. Stitch shoulder seams and press allowances open.
11. Assemble Sleeves. Staystitch at sleeve head allowance between the notches and pull threads to match sleeve in length with the armhole of garment. Spray sleeve head with water and press gathers with a tip of hot iron. Sew under-sleeve seam, press allowances open. Pin sleeve to the garment, matching the notches, and sew, making the stitching at the Sleeve.
12. Sew cuff ends together, forming a ring, but leaving open a small area of seam at the inner half of Cuff, for elastic. Press Cuff lengthwise in half wrong side inseide and baste together raw edges.
13. Staystitch sleeve bottom with long machine-stitches; pull threads to match sleeve bottom in length with Cuff. Sew Cuff to Sleeve, matching seams (cuff and under-sleeve).
14. Cut elastic in half. Pull elastic through the cuff, adjust length and sew elastic into a ring.
15. Stretch elastic with your hands, and topstitch onto Cuff at the center of elastic.
16. Sew center hood seam, press allowances to the right side and topstitch.
17. Install eyelets at the Hood as per pattern.
18. Sew Hood into neckline of garment, matching notches of Hood with shoulder seams.
19. Assemble lining similar to shell. Hem the lining.
20. Place garment and lining face-to-face and stitch together at face edge of Hood. Turn out, press, baste raw edges of center fronts and bottom.
21. Topstitch neckline into the ditch, joining shell and lining.
22. Turn under sleeve bottom hem and hand-sew to Cuff.
23. Cut drawcord into 3 pieces. Pull one piece of drawcord through the tunnel of Fly Back. Cut second piece of drawcord in half, pull each of 2 pieces through the tunnel of each Fly Front, bartacking the drawcords at center front edges.
24. Topstitch face edge of Hood at per pattern, forming a tunnel. Pull third piece of drawcord through the hood tunnel.
25. Fold Placket lengthwise in half, face-to-face, and stitch down short ends of Placket. Turn out and press.
26. Place Front Placket, with raw edges towards center front, onto lining of Front (inside the garment!) and sew inner side of Placket to the front edge. Tuck allowances inside the Placket, turn under raw edge, baste and topstitch onto garment. Topstitch all around the Placket.
27. Make buttonholes into right Front and a Back Tab according to pattern. Sew buttons accordingly.