Home / Girls / Pants / #7035 Wide Pants with Cuffs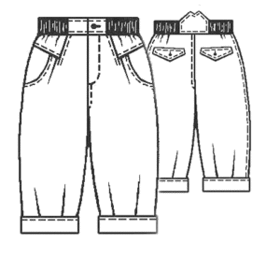 Difficulty: **
Recommended fabrics: woolen or blended fabrics for pants
Attention! Fabric consumption varies depending on the size of garment. First of all, print out paper patterns and lay them out at the width of fabric/ knit you plan to use, to see how much fabric you will need.
When sewing the garment, pay attention to notches- they must coincide.
You will need: Patterned wool fabric; 10 cm (4") of fusible interfacing 90 cm (36") wide; 40 cm (16") of elastic tape 3 cm (1-1/4") wide; zipper – refer to your pattern for zipper length; 3 buttons 1.2 cm (1/2") in diameter.
Cutting:
Shell:
Front - 2 pieces
Back - 2 pieces
Side Front - 2 pieces
Front Yoke - 2 pieces
Back Waistband Insert - 2 pieces
Pocket Flap - 4 pieces
Belt Loop - 2 pieces
Side Pocket Bag - 2 pieces
Right Waistband - 1 piece
Left Waistband - 1 piece
Back Pocket Bag - 4 pieces
Zipper Fly - 2 pieces
Turn-out Cuff of Back - 2 pieces
Turn-out Cuff of Front - 2 pieces
Fusible interfacing is cut for half-width of each Waistband part (2 pcs), Pocket Flaps (2 pcs), Back Waistband Insert (1 pc).
Instructions:
1. Reinforce half-width of each Waistband part, Pocket Flaps (outer parts only), Back Waistband Insert (outer part).
2. Fold a pleat at each Front at waist (refer to pattern for pleat placement), stitch down the pleat. Press pleat allowances towards center front closure, baste raw edges at waistline.
3. Assemble side pocket at each Front. Place Side Pocket Bag onto Front face-to-face and stitch together at the curved edge of pocket entrance. Clip allowances, turn pocket bag to the wrong side, press and topstitch pocket entrance. Place Side Front underneath the Front with Pocket Bag. Sew together and serge Pocket Bag and Side Front.
4. Sew Front Yoke to Front. Clip allowances in corner. Press allowances of front edge towards center front; press allowances at bottom edge upwards. Topstitch at 0.5 cm (1/4").
5. Assemble "Frame Pocket with Flap" at each Front. Place every two pieces of Flaps (reinforced and non-reinforced) face-to-face and sew around the outer edges. Turn out to the face side, press and topstitch the Flap at 0.5 cm (1/4"). Mark Pocket placement at each Back. Pin the Flap, face (reinforced) side onto face side of Back, aligning raw edge of Flap with pocket entrance. Place one Pocket Bag onto Flap; another Pocket Bag, at the other side of pocket entrance, pin and/or baste. Make two stitchings along pocket entrance, 1.0 cm apart. Cut the Back between two seams, in corners cut diagonally, forming small triangles at the ends of pocket. Pull Pocket Bags inside through the pocket opening. Align two Pocket bags, trim to make raw edges even, stitch around and serge raw edges of Pocket Bags.
6. Sew side seams, serge allowances. Press allowances towards Back and topstitch side seams at 0.5 cm (1/4").
7. Sew and serge inseams. Press inseams towards Back. Sew crotch seam (preferably, with a triple straight stitch) from top of Back to the notch for zipper at Front. Make a second, parallel, stitching 0.2 cm (1/16") from the crotch seam. Press allowances of crotch seam towards left Front/Back and topstitch at 0.5 cm (1/4").
8. Sew zipper in. Pin zipper face-to-face onto right Front edge, aligning raw edge of Front with zipper tape edge. On top of zipper, place Zipper Fly piece (folded lengthwise in half, wrong side inside), and stitch together all layers (Front, Zipper, Zipper Fly). Pull Zipper Fly piece open to the right and topstitch Front next to the Zipper tape so the whole construction lays flat. Turn under and press to the wrong side extended zipper closure facing at left Front. Sew another side of Zipper under the edge of zipper facing at left Front. Serge allowances. Sew left Zipper Fly to the garment. At the wrong side, stitch with zig-zag the bottom edges of Zipper Fly.
9. Sew Turn-out Cuff pieces of Front and Back together at side seam and inseam, forming a ring. Place Cuff ring onto bottom of each leg of pants, face-to-face, matching side seams and inseams. Stitch Cuff to bottom all around the leg. Tuck allowances inside the Cuff. Turn under raw edge of each Cuff and stitch or hand-sew to the garment. Topstitch the edge of Cuff at 0.5 cm (1/4").
10. Place two Back Waistband Inserts face-to-face and stitch together at figured top edge. Clip corners, turn out, press and topstitch.
11. Cut 3 cm (1-1/4") off front end of Left Waistband piece. Sew Left and Right Waistband pieces to Back Waistband Insert, topstitch the seams.
12. Assemble Waistband. Fold Waistband in half lengthwise face side inside, and stitch down short end of Left Waistband, and extended end of Right Waistband. Turn out, press. Place the Waistband with its reinforced half onto waist of pants, aligning raw edges at waist, baste and stitch together. Tuck allowances inside the Waistband and press. Turn under and press raw edge of Waistband. Stitch in the ditch of waist seam to attach inner half of Waistband, leaving two small openings at side seams for inserting elastic. Topstitch the Waistband all around, but not at the left openings.
13. Cut elastic in half. Pull it through the side areas of Waistband. Stitch downs ends of elastic – to the seams of attaching Back Insert, and at the points where Front Yokes start. Pull out elastic and topstitch at center of Waistband, through elastic.
14. Fold each Belt Loop piece lengthwise in half, face side inside, and stitch down at long edges. Turn out and press. Cut each Belt Loop piece in half – total 4 Loops. Turn under ends of each Loop and topstitch with strong bartacks onto Waistband as directed in pattern.
15. Make buttonholes at Pocket Flaps and left end of Waistband. Sew buttons accordingly.