Home / Girls / Pants / #7003 Pants with Elastic Bottoms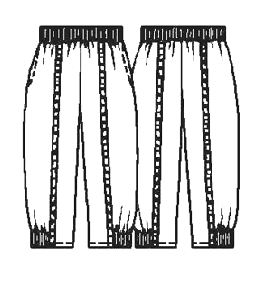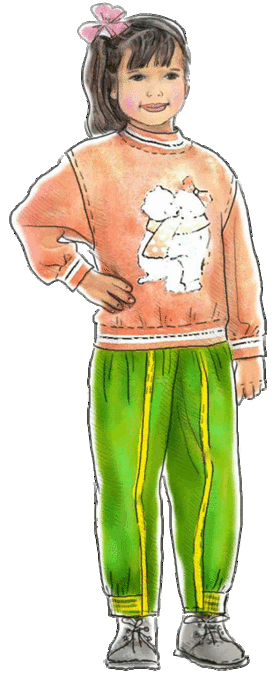 Difficulty: *
Recommended fabrics: cotton flannel
You will need: Cotton flannel; 30 cm (12") of elastic 4 cm (1-1/2") wide; 4.0 m (4 yds 15") of red decorative tape 2 cm (about 6/8") wide; 50 cm (20") of elastic 3 cm (1- 1/4") wide.
Attention! Fabric consumption varies depending on the size of garment. First of all, print out paper patterns and lay them out at the width of fabric/ knit you plan to use, to see how much fabric you will need.
When sewing the garment, pay attention to notches- they must coincide.
Cutting:
Back - 2 pieces
Front - 2 pieces
Pocket Bag - 4 pieces
Instructions:
1. Assemble in-seam pockets in side seams. Sew a Pocket Bag to Front, and another Pocket Bag to Back between notches. Press allowances towards Pocket Bags. Match raw edges of side seams. Sew side seams, going around Pocket Bags. Topstitch Front at Pocket Entrance from the face side of garment. Serge allowances.
2. Cut elastic in half.
3. Sew top edges of two elastics (slightly pulling the elastic) horizontally to the side areas at bottom of pants (refer to pattern for elastic placement), serge allowances. Topstitch side edge of elastics onto shell.
4. Cut red decorative tape into four equal pieces.
5. Place decorative tape onto face side of Front (refer to pattern for placement) and topstitch both at sides of tape. Topstitch the tape onto Back in similar manner.
6. Sew inseams, serge allowances.
7. Turn under and press bottom hem allowance. Turn under raw edge and topstitch. Sew raw edge of tape to the side edge of elastic with hand-stitches.
8. Sew crotch seam, serge allowances.
9. Turn under and press allowances for tunnel at waist. Turn under raw edge and topstitch, leaving an opening for inserting elastic.
10. Insert and pull elastic through the waist tunnel, adjust its length and bartack ends of elastic together.
11. Pull elastic and topstitch the waistband with two parallel seams at the equal distance from edges of waistband tunnel.