Home / Girls / Others / #7112 Double-Layered Shorts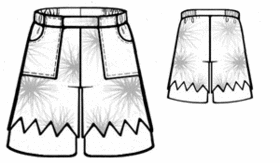 Difficulty: **
Recommended fabrics: lightweight fabrics of natural fibers, or blends.
You will need: shell fabric, wide elastic about 3 cm (1-1/8") wide (refer to pattern for elastic length).
Attention! Fabric consumption varies depending on the size of garment. First of all, print out paper patterns and lay them out at the width of fabric/ knit you plan to use, to see how much fabric you will need.
When sewing the garment, pay attention to notches- they must coincide.
Cutting:
Shell Fabric:
1. Front Panel – 2 pieces
2. Back Panel – 2 pieces
3. Lower Front Panel – 2 pieces
4. Lower Back Panel – 2 pieces
5. Waistband – 1 piece
6. Pocket – 4 pieces
7. Front Facing – 2 pieces
8. Back Facing – 2 pieces
Fusible Interfacing: Waistband, Front Facing, Back Facing.
Instructions:
1. Reinforce with fusible interfacing Waistband, Front Facing, Back Facing.
2. Place every two Pockets face-to-face and stitch around all edges except side edge. Clip the corners and curved allowances. Turn the Pocket out to the face side. Press.
3. Mark Pocket placement at the Front Panel. Topstitch each Pocket onto Front Panel. At waist, topstitching stops at allowance for attaching Waistband.
4. Place Front Facing onto Front Panel face-to-face. Stitch at the shaped bottom edge. Clip allowances in convex corners, notch concave corners. Turn out and press shaped bottom. Finish Back Panel bottom in the same manner.
5. Place Front Panel onto Lower Front Panel; align edges at waist and stay-stitch together at sides, crotch seam and waist. Assemble Back Panel and Lower Back Panel in the same manner.
6. Serge crotch seam allowances. Sew and serge inseams and side seams. Press allowances towards Back Panel.
7. Sew crotch seam. Reinforce the seam with a second stitching parallel to the crotch seam (gauge 0.1-0.2 cm (1/16") ).
8. Fold Waistband lengthwise in half, wrong side inside, serge only inside raw edge of Waistband. Open the Waistband and stitch together short ends to form a ring.
9. Cut elastic as per pattern and topstitch onto Waistband. Sew raw edge of Waistband to the upper edge of shorts, while bend away the upper end of Pocket so that it doesn't get in the way of your stitching. Stitch Waistband in the ditch, fastening serged allowance of Waistband. Press finished Waistband.
10. Put upper end of Pocket onto Waistband and topstitch. Bartack across the top of Pocket in the ditch of waistband seam.
11. Serge and turn under bottom hem of Lower Front/Back. Topstitch. Press bottom hem.