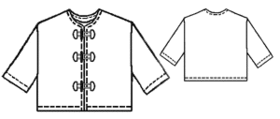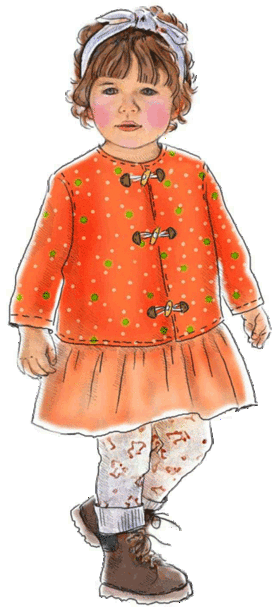 Difficulty: *
Recommended fabrics: cotton fabrics or knits
Attention! Fabric consumption varies depending on the size of garment. First of all, print out paper patterns and lay them out at the width of fabric/ knit you plan to use, to see how much fabric you will need.
When sewing the garment, pay attention to notches- they must coincide.
You will need: Polka-dot sweatshirt knit; 3 toggle closures.
Cutting:
Front - 2 pieces
Back - 1 piece
Sleeve - 2 pieces
Front Facing - 2 pieces
Back Neck Facing - 1 piece
Instructions:
1. Sew shoulder seams, serge seam allowances, press them open.
2. Sew each Sleeve into armhole. Serge allowances.
3. Sew side and under-sleeve seams at one go; serge allowances.
4. Sew Front Facings to Back Neck Facing at shoulders. Serge inside raw edges (but not front edges) of Front Facings and Back Neck Facing.
5. Place Front Facings with Back Neck Facing onto garment face-to-face, aligning raw edges at neckline. Stitch at neckline and front edges. Turn out, press and topstitch front edges and neckline edge.
6. Turn under bottom hem allowance, press. Turn under one again and topstitch the bottom.
7. Hem Sleeves in a similar way, topstitch 0.5 cm (1/4") from the bottom of each Sleeve.
8. Mark placement of closures at Fronts. Stitch the closures on.