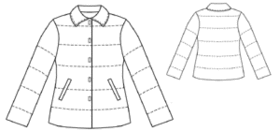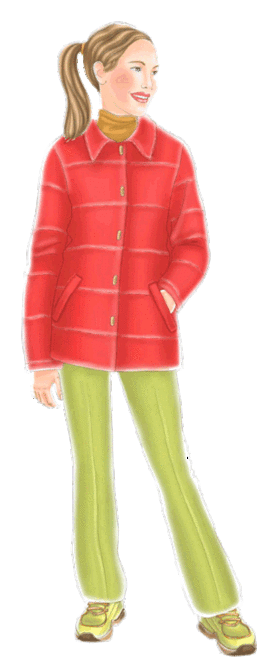 Difficulty: ***
You will need: fabric suitable for jackets and raincoats; warmer; fusing; lining; Velcro.
Attention! Fabric consumption varies depending on the size of garment. First of all, print out paper patterns and lay them out at the width of fabric/ knit you plan to use, to see how much fabric you will need.
When sewing the garment, pay attention to notches- they must coincide.
Cutting:
Fabric:
1. Back part - 1 folded piece
2. Off-set welt - 2 pieces
3. Pocket bag - 2 pieces
4. Front part - 2 pieces
5. Front facing - 2 pieces
6. Collar - 2 pieces
7. Sleeve - 2 pieces
Lining:
1. Back part - 1 folded piece
2. Front part - 2 pieces
3. Sleeve - 2 pieces
Warmer: topstitch the warmer on back/front details, sleeves and outer collar along marking.
Instructions:
1. Apply the fusing to wrong side of off-set welt.
2. Cut side front slit pockets "in frames": press welts along the center right side out. Apply the stripe of fusing of 2 cm (6/8") width to wrong side of pocket marking. Lay off-set welt and pocket bag on front part, right sides together, pin them together along pocket entrance marking and stitch. Lengthwise edges of facings coincides to pocket marking middle line! Cut the front part between stitches, cut the fabric diagonally at stitch ends. Do not cut facings! Press seam facing allowances apart. Fold facings into wrong side through the slit to make a neat frame, then tack. Lay pocket bag on front part's wrong side, on lower facing (lay pocket bag upward); topstitch lower facing on right side along joining seam catching the pocket bag. Press pocket bag downwards. Turn small triangles at slit ends into wrong side and topstitch accurately between upper stitch ends and lower stitch ends. Cut pocket bags, adjust, and stitch them together.
3. Stitch side/shoulder seams.
4. Lay outer collar on inner one and overstitch them along ends and flies. Turn the collar right side out and press it.
5. Stitch sleeve seams. Stitch sleeves into armholes. Press sleeve hems into wrong side.
6. Stitch lining details leaving unstitches segment into one of sleeves. Stitch front facings to lining. Lay the lining on garment right sides together and overstitch them along all edges inserting the collar between necklines of lining and the garment.
Turn the jacket right side out and stitch unstitches segment. Sew sleeve lining hem to sleeve hem line neatly.
7. Stitch Velcro hooked piece on right edge, stitch Velcro napped piece on left one.