Home / Girls / Jackets / #7099 Jean Jacket with Patch Pockets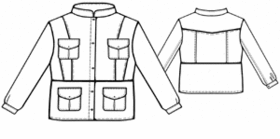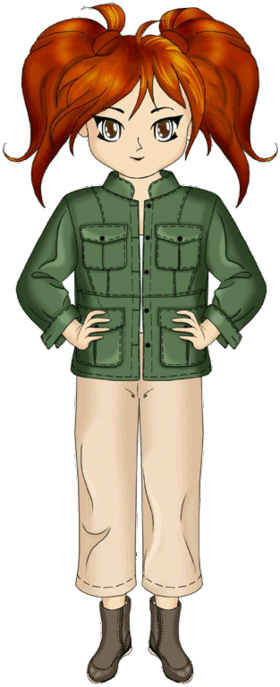 Difficulty: **
Recommended fabrics: heavyweight cottons or cotton blends(jean, denim)
You will need: jean fabric, fusible interfacing, 5 snaps.
Attention! Fabric consumption varies depending on the size of garment. First of all, print out paper patterns and lay them out at the width of fabric/ knit you plan to use, to see how much fabric you will need.
When sewing the garment, pay attention to notches- they must coincide.
Cutting:
Jeans fabric:
1. Back Yoke. 1 piece
2. Center Back - 1 piece
3. Lower Back - 1 piece
4. Side Back - 2 pieces
5. Center Front - 2 pieces
6. Lower Front - 2 pieces
7. Side Front - 2 pieces
8. Upper Patch Pocket-2 pieces
9. Upper Pocket Flap - 4 pieces
10. Lower Pocket - 2 pieces
11. Lower Pocket Flap - 4 pieces
12. Collar Stand - 2 pieces
13. Back Sleeve - 2 pieces
14. Front Sleeve - 2 pieces
15. Cuff - 4 pieces
Fusible Interfacing: Upper Collar Stand, Upper Pocket Flap, Lower Pocket Flap, Cuff, Front Facing.
Instructions:
1. Cut pieces of fusible interfacing for reinforcement of Front Facing (one-piece-cut with Front in shell fabric).
2. Reinforce with fusible interfacing Front Facings, Upper Collar Stand, Upper Pocket Flaps, Lower Pocket Flaps, Cuffs.
3. Mark and sew dart at each Side Front. Press towards center. Edgestitch the dart.
4. Place each pair of Flaps face-to-face and stitch around at three sides. Clip allowances in curved corners of the Flap, turn out. Topstitch outer sides of the Flap at 0.5 cm (3/16"). Serge raw edge of each Flap.
5. Fold and press down inverted pleats at each Pocket. Edgestitch all the folds of each pleat. Stitch down pleats at top and bottom, 0.5 cm (3/16") from top and bottom raw edges. Serge the Pockets all around. Press inside seam allowances according to pattern. Topstitch the top edge of each Pocket.
6. Serge inner Collar Stand at the raw edge which goes into neckline. Place Collar Stands face-to-face and sew together at the outer edge. Trim allowances in the corners and turn out the Collar Stand. Press.
7. Sew vertical seams of Fronts and Backs. Serge the seam allowances. Topstitch the seams at 0.5 cm.
8. Sew each Front to the Lower Front. Serge the seams and press downward. Sew Back to the Lower Back. Serge the seam and press it downward. Topstitch the seams at 0.5 cm.
9. Sew Back Yoke to Back. Serge the seam and press it towards Yoke. Topstitch the seam at 0.5 cm.
10. Mark placement of Pockets on Fronts, pin and topstitch the Pockets onto Fronts with 0.2 cm (1/16") topstitching seam. Place each Flap, directed upwards, according to markings and stitch it onto Front. Fold the Flap down and topstitch the seam at 0.5 cm.
11. Sew and serge shoulder seams. Press shoulder seams towards Back.
12. Serge raw edge of each Front Facing. Fold Front Facing onto Front, face-to-face, and stitch down the top corner, up to the notch. Clip neckline at the notch, 0.1-0.2 cm beyond the seam of Front Facing.
13. Sew outer Collar Stand into neckline of garment. Topstitch serged allowance of inner Collar Stand into seam of attaching the outer Stand. Topstitch at both Collar Stands.
14. Serge raw edges of Sleeves. Sew elbow seam down to the notch of sleeve vent. Press allowances of the elbow seam open. Topstitch allowances around the vent at 0.5 cm. Topstitch elbow seam as well at 0.5 cm.
15. Sew Sleeves into open armholes matching the notches. Sew side seam and under-sleeve seam at one go; serge and press towards Back. Make a pleat at the bottom of the sleeve and bartack it with a horizontal stitching, 0.5 cm from the raw edge.
16. Serge upper edge of two cuff pieces only. Place two Cuff pieces (serged and unserged) face-to-face and stitch together at three sides, except serged side. Clip in corners, turn out and press.
17. Sew unserged edge of Cuff to the bottom of Sleeve. Topstitch the seam, at the same time picking up serged allowance underneath the cuff. Topstitch the Cuff all around.
18. Serge bottom hem of the garment. Turn under, press and topstitch.
19. Mark placement of snaps at Fronts and Cuffs. Install snaps.