Home / Girls / Jackets / #7016 Jacket with Pompoms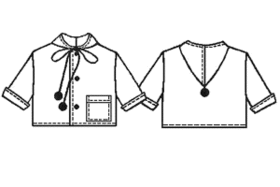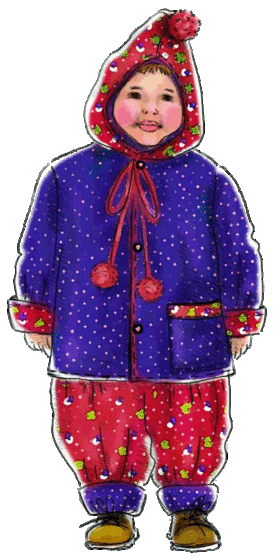 Difficulty: *
Recommended fabrics: cotton fabrics
You will need: Blue cotton fabric for shell; red cotton fabric for lining; polyfill warmer, 3 buttons 1.6 cm (5/8") in diameter; 2 eyelets 0.5 cm (3/16") in diameter; 3 red pompoms; 1 m (1.09yd) of blue drawcord.
Attention! Fabric consumption varies depending on the size of garment. First of all, print out paper patterns and lay them out at the width of fabric/ knit you plan to use, to see how much fabric you will need.
When sewing the garment, pay attention to notches- they must coincide.
Cutting:
Front - 2 pieces
Back - 1 piece
Sleeve - 2 pieces
Hood - 2 pieces
Pocket – 1 piece
To cut lining (out of red cotton fabric) and polyfill warmer, use patterns of shell without any changes. Pocket pattern must be extended in length for 3 cm (1-3/16").
Instructions:
1. Apply polyfill pieces to wrong side of corresponding pieces of shell fabric. Staystitch polyfill to shell at seam allowances.
2. Place Pocket to Pocket lining face-to-face and stitch together at top edges. Press allowances towards lining and under-stitch. Fold shell and lining Pocket halves so that wrong sides are inside, align side and bottom edges, baste and press. Turn under and press raw edges at sides and bottom of Pocket. Mark Pocket placement at the left Front. Apply Pocket to Front and edgestitch it.
3. Sew shoulder seams. Sew Sleeve into open armhole, matching the notches.
4. Sew center Hood seam, press allowances towards left half of Hood and topstitch.
5. Sew darts of Hood.
6. Sew Hood into neckline of shell, matching the notches of Hood with shoulder seams.
7. Mark and install eyelets at Hood.
8. Assemble pieces of lining similar to shell (pp.3-6).
9. Place shell and lining face-to-face, aligning raw edges. Stitch together at face edges of Hood, center front edges, bottom of jacket, and bottoms of Sleeves. Turn out and press.
10. Sew side seams and under-sleeve seams of shell. Sew side and under-sleeve seams of lining as much as possible. Turn under raw edges in side seams openings of lining, hand-sew them together.
11. Stitch in the ditch of neckline seam, fastening together shell and lining.
12. Edgestitch front edges, face edge of hood, bottom of jacket and bottoms of Sleeves.
13. Topstitch at 2 cm (3/4") along the face edge of hood, forming a tunnel for cord.
14. Insert the cord into hood tunnel; hand-sew pompoms to the ends of cord.
15. Hand-sew pompom to the tip of the hood.
16. Mark and sew buttonholes into the left Front; sew buttons accordingly.