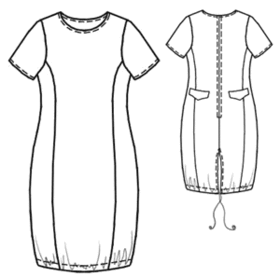 Difficulty: *
Recommended fabrics: lightweight fabrics of natural fibers or blends.
You will need: shell fabric; fusible interfacing, 1 zipper (refer to pattern for zipper length).
Attention! Fabric consumption varies depending on the size of garment. First of all, print out paper patterns and lay them out at the width of fabric/ knit you plan to use, to see how much fabric you will need.
When sewing the garment, pay attention to notches- they must coincide.
Cutting:
Shell:
1. Flap – 4 pieces
2. Back - 2 pieces
3. Side - 2 pieces
4. Front - 1 piece
5. Neckline Facing – 1 piece
6. Tie - 2 pieces
7. Sleeve – 2 pieces
Fusible Interfacing: Flap (4 pcs)
Instructions:
1. Reinforce Flap pieces with fusible interfacing. Apply pieces of interfacing with glue side onto wrong side of each Flap, press both pieces with hot iron, preferably through the cotton cloth.
2. Sew center back seam between the notches. Serge seam allowances separately, and press them open all the way along center back (including closure and vent areas).
3. Sew Side parts to Back.
4. Place each two Flap pieces face-to-face and stitch around three sides, turn out to the face side, baste and press. Topstitch each Flap at 0.1 cm (1/16") from the edge (very close to the edge). Serge raw edge of each Flap. Topstitch Flaps onto Back/Side as per pattern markings.
5. Sew Sides to Front. Sew shoulder seams.
6. Baste zipper under the closure at center back so that the coil/ teeth are not seen from the face side, and stitch at 0.5 cm (1/4") from center back.
7. Press Neckline Facing lengthwise in half, face side outside. Cut off neckline allowance so it's equal 0.5 cm (1/4"). Place Neckline Facing onto face side of dress neckline, aligning raw edges, and stitch around the neckline with 0.5 cm (1/4") wide seam. Turn the Neckline Facing to the wrong side, forming a piping, and topstitch it in the ditch of neckline seam. At both sides of zipper, turn under ends of Neckline Facing and hand-sew.
8. Sew Sleeve seams. Serge seam allowances, press them open. Turn under and press allowances at bottom of Sleeves. Turn under raw edges and topstitch Sleeve bottoms.
9. Staystitch with long machine-stitches at allowances of Sleeve head, between the notches. Pull threads to make shirring at Sleeve head. Sew Sleeves into armholes. First, match non-shirred part of Sleeve with armhole, matching notch at Sleeve with seam at garment, pin. Then pin at shoulder, matching a Sleeve notch with shoulder seam of garment. Then pin the rest of Sleeve Head, evenly spreading shirring of Sleeve head. Baste the armhole and stitch at the Sleeve, starting the stitching exactly at the under-sleeve seam. Serge allowances together. Press allowances towards Sleeve, at the shoulder area only.
10. Turn under and press bottom hem allowance of dress. Turn under raw edge, press and topstitch, forming a tunnel for tie.
11. Sew together pieces of Tie. Fold the Tie lengthwise in half, face side inside, and sew at one long and one short side. Turn out to the face side, baste and press. Pull the Tie through the bottom tunnel.