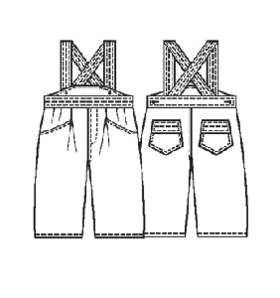 Difficulty: **
Recommended fabrics: heavyweight cotton fabrics (soft jean, or corduroy, or flannel)
You will need: Heavyweight cotton fabric of turquoise color; zipper tape – refer pattern for zipper length; 4 yellow metal buttons 1.6 cm (5/8") in diameter.
Attention! Fabric consumption varies depending on the size of garment. First of all, print out paper patterns and lay them out at the width of fabric/ knit you plan to use, to see how much fabric you will need.
When sewing the garment, pay attention to notches- they must coincide.
Cutting:
Top - 2 pieces
Back - 2 pieces
Side Pocket Bag - 2 pieces
Side Front - 2 pieces
Back Patch Pocket - 2 pieces
Front - 2 pieces
Shoulder Strap - 2 pieces
Back Waistband - 2 pieces
Zipper Fly - 2 pieces
Instructions:
Note: Please use yellow threads for topstitchings.
1. Place Side Pocket Bag onto Front, face-to-face, and stitch together at the curved edge of pocket entrance. Clip allowances, turn pocket bag to the wrong side, press and double-topstitch pocket entrance. Place Side Front part underneath the Front. Sew together and serge Side Pocket Bag and Side Front. Staystitch pocket area at top and side edges with 0.5 cm wide stitching.
2. At the wrong side of garment, stitch down a pleat of Front (the one closest to center front), press as directed in pattern. Bartack at the bottom of pleat, 1 cm (3/8") long.
Fold 2 pleats at each Front at waist as per pattern, press pleats as directed. Baste raw edges.
3. Turn under and press allowance for side closure at Side Front. Turn under raw edge and topstitch. Turn under and press the topstitched edge of Side Front, baste at top and bottom of the topstitching. Put a horizontal bartack at bottom of side closure.
4. Turn under and press allowance at top of Back Patch Pocket. Turn under raw edge and topstitch. Make another decorative zig-zag topstitching 1 cm (3/8") below and parallel to the previous topstitching.
5. Sew side seams to the notch of side closure, serge allowances.
6. Sew inseams; serge allowances.
7. Sew crotch seam from top of Back to the notch of front closure. Serge allowances and press them to the left side. Double-topstitch crotch seam.
8. Construct Front Zipper closure. Trim off the right closure allowance, leaving 1 cm (3/8") for seam allowance and 1 cm for extension (total 2 cm (6/8") measured from center front). Pin zipper onto right closure allowance, face-to-face. On top, place Zipper Fly piece, folded lengthwise in half. Match raw edges and stitch together all the layers. Pull out the Zipper Fly piece and topstitch the previous seam at the edge of zipper tape. Turn under and press extended closure facing at left Front. Sew another side of zipper to zipper facing at left Front. Serge allowances and topstitch left extended closure facing onto left Front. At the wrong side, bartack bottom edges of zipper closure facings with zig-zag seam. Topstitch front edge of left Front very close to the fold. Close zipper and baste left and right sides of zipper closure together at waistline.
9. Fold each Shoulder Strap piece lengthwise in half, face side inside, and stitch at one long and one short side. Turn out, press and topstitch at 0.5 cm (about 1/4") at long edges. Topstitch with zig-zag seam at center of each Strap.
10. Cut slanted a raw edge of each Shoulder Strap, and pin Straps to the face side of Back Waistband, at the distance of 4.5 cm (1 5/8") from center back. Make sure you pinned Straps correctly, so that they will cross above the Back when sewn in.
11. Fold Back Waistband pieces face-to-face and stitch together at side edges and top edge (fastening Shoulder Straps at the same time). Turn out Back Waistband, press.
12. Turn under and press raw edges at bottom of Back Waistband. Encase waist edge of Back of pants in between the Waistband halves, baste and stitch together all layers. Topstitch Back Waistband all around its perimeter.
13. Place Top parts face-to-face, stitch at top and side edges; turn out and press. Place Top, directed downwards, onto face side of Fronts of pants and stitch outer half of Top to Fronts at waist. Pull the Top up, tuck seam allowances inside the Top; turn under raw edge of inner half of Top, baste and double-topstitch Top to Fronts of pants. Double-topstitching the top to imitate Waistband (see the drawing). Make a zig-zag topstitching 2 cm () above the waist seam.
14. Turn under and press bottom hem allowances of overalls, turn under raw edge and double-topstitch.
15. Work buttonholes into Top and Back Waistband as per pattern. Sew buttons to Shoulder Straps and sides of Top.
16. Cross Shoulder Straps at Back at a distance 10.5 cm () from Waistband, and stitch the Straps together into the topstitching seam.