Home / Boys / Others / #7115 Hoodie With Patch Pockets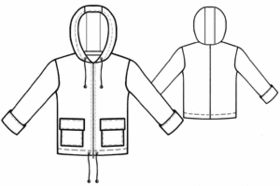 Difficulty: **
Recommended fabrics: soft wool fabrics, sweatshirt knit.
You will need: shell fabric or knit; fusible interfacing; 1 separating zipper, drawcord, 2 bell tips.
Attention! Fabric consumption varies depending on the size of garment. First of all, print out paper patterns and lay them out at the width of fabric/ knit you plan to use, to see how much fabric you will need.
When sewing the garment, pay attention to notches- they must coincide.
Cutting:
Shell:
1. Front- 2 pieces
2. Back - 2 pieces
3. Pocket - 2 pieces
4. Flap – 4 pieces
5. Front Facing– 2 pieces
6. Back Neck Facing – 1 piece
7. Sleeve - 2 pieces
8. Sleeve Facing - 2 pieces
9. Side Hood – 2 pieces
10. Center Hood – 1 piece
Fusible Interfacing: Front Facing, Back Neck Facing, Flap.
Instructions:
1. Reinforce Front Facings, Back Neck Facing and Flaps with fusible interfacing.
2. Place Flap pieces face sides inside and sew around three sides. Trim the allowances, turn out the Flap, baste, press and topstitch.
3. Sew Side Hood pieces to Center Hood and serge the seams. Mark and sew buttonholes at hood. Turn under allowance at the face edge of hood. Turn once again, baste and topstitch to form drawcord tunnel at hood.
4. Serge the pocket all around. Turn under and press all allowances. Topstitch top edge of the Pocket. Mark pocket and flap placement at each Front. Place Pocket onto Front according to marks and topstitch it onto the front. Place Flap onto Front facing upward, stitch on. Fold down the Flap, press and topstitch.
5. Place Fronts face-to-face, align to compare lengths at center front. Sew zipper to the center front edges. Turn under center front edges, press.
6. Sew and serge center back seam. Press allowances to the side and topstitch the seam at 0.5 cm (3/16").
7. Sew and serge side and shoulder seams. Press the seams towards back.
8. Sew Back Neck Facing to Front Facings. Serge outer edge of Front Facings and Back Neck Facing. Place Front Facing onto Front face-to-face and sew around center front edges and neckline, inserting the hood. Stitch at Front! Sew around lower corner of front. Turn out to the face side, press.
9. Turn under and press upper edge of Sleeve Facing. Sew Sleeve Facing to the Sleeve. Sew and serge sleeve seams. Press. Topstitch seam of Sleeve Facing onto Sleeve. Sew Sleeves into armholes, matching the notches.
10. Topstitch Fronts along zipper at 0.5 cm. Pull the cord through the buttonholes of Hood, put on bell tips.
11. Serge bottom hem of the jacket, turn under and topstitch.