Home / Boys / Jackets / #7011 Windbreaker Jacket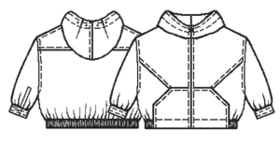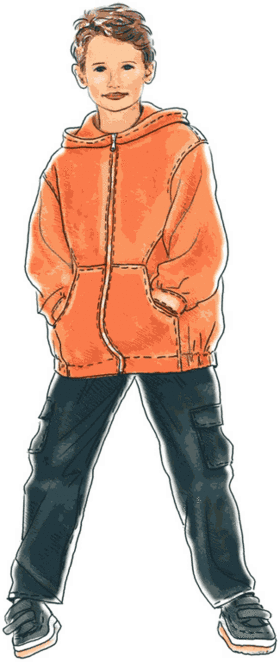 Difficulty: **
Recommended fabrics: cotton or cotton/polyester water-resistant raincoat fabrics.
You will need: Water-resistant cotton fabric; white cotton flannel (pre-shrunk) for lining; 70 cm (27-1/2") of elastic 3 cm (1-3/16") wide; separating zipper (refer to your pattern for zipper length); 6 wooden buttons 1.2 cm (1/2") in diameter.
Attention! Fabric consumption varies depending on the size of garment. First of all, print out paper patterns and lay them out at the width of fabric/ knit you plan to use, to see how much fabric you will need.
When sewing the garment, pay attention to notches- they must coincide.
Cutting:
Shell:
Front - 2 pieces
Back - 1 piece
Sleeve - 2 pieces
Hood - 2 pieces
Pocket - 4 pieces
Hood Tab - 4 pieces
Cuff - 2 pieces
Sleeve Vent Facing - 2 pieces
Side Front - 2 pieces
Back Yoke - 1 piece
Sleeve Vent Facing (cut at bias)- 2 pieces, refer to your pattern for facing length – it's twice the length of the vent.
For lining, use Front, Side Front, Back, Back Yoke, Hood and Sleeve pieces of shell without any changes to patterns.
Instructions:
1. Sew Side Front to Front, matching the notches. Press allowances towards Front and topstitch at 0.5 cm (3/16").
2. Place every two Pocket parts face-to-face, stitch together at top, slanted and side edges, turn out, press and double-topstitch at pocket entrance. Baste Pocket pieces together at raw edges (front and bottom).
3. Mark Pocket placement at Front as per pattern. Apply Pocket to Front and double-topstitch at top and side edges. Baste Pocket to Front at front and bottom edges.
4. Sew Back Yoke to Back, matching the notches. Press allowances towards Back Yoke and double-topstitch.
5. Sew shoulder seams, press allowances towards Back and double-topstitch.
6. Mark Sleeve vent placement at each Sleeve, cut the vent. Pull sides of vent open into a line and trim with bias tape. Place bias tape onto face side of Sleeve vent, aligning raw edges, and stitch together at 1/4" of bias tape width (about 1/4"). Turn the bias tape over seam allowances to the wrong side, forming a piping 1/4" wide. Turn under raw edge of bias tape at the wrong side of garment; baste it to Sleeve along the vent seam. Stitch in the ditch of vent seam. Press under front part of Vent Facing and baste it to the Sleeve bottom.
7. Sew Sleeves into armholes. Press allowances towards armhole and double-topstitch.
8. Sew side and under-sleeve seams at one go.
9. Form pleats at bottom of each Sleeve as per pattern. Press the pleats as directed and baste raw edges of Sleeve bottom.
10. Assemble Cuffs. Fold each Cuff lengthwise in half, face side inside, stitch down at short ends. Turn out, press. Place Cuff onto Sleeve, matching raw edges at Sleeve bottom, leaving an extension for button closure at the front side of Sleeve. Stitch ONLY outer half of Cuff to Sleeve bottom. Press seam allowances inside the Cuff. Turn under and press raw edge of Cuff. Stitch in the ditch of Cuff seam. Double-topstitch around the Cuff.
11. Place Hood Tab pieces face-to-face. Trim one short end in a shape of a chevron. Stitch Tab pieces together at all sides except short one. Turn out, press.
12. Pin the Hood Tab, directed inside, at the face side of Hood, as per pattern marking. Stitch down Hood darts, sewing in the Tabs at the same time.
13. Sew center Hood seam, press allowances towards left Hood part. Double-topstitch the seam. Sew Hood into neckline, matching notches with shoulder seams. Open zipper. Pin halves of zipper, with zipper teeth (coil) directed towards side seams, onto face side of Fronts, along the front edges.
14. Assemble lining pieces similar to shell.
15. Place shell and lining face-to-face and stitch together at face edge of Hood, front edges (sewing in zipper at the same time) and bottom. Turn out and press.
16. Topstitch at the bottom of jacket as per pattern to form a tunnel for elastic.
17. Cut threads to open left side seam between bottom and tunnel topstitching. Insert elastic and hand-sew ends of elastic to the jacket at the points where Pockets start.
18. Stitch in the ditch of neckline seam, to join shell and lining.
19. Edgestitch front edges and face edge of Hood. Make another topstitching 2 cm (3/4") from the face edge of Hood.
20. Make a cut at each Sleeve lining according to Sleeve vent marking in pattern. Turn under raw edges of Sleeve vent lining, and hand-sew to Vent Facings with invisible stitches. Turn under and hand-sew raw edge of lining to the Cuff.
21. Make buttonholes into Hood Tabs; sew buttons to Hood as per pattern markings.